General and Family Dental Care from Jeffersonville Family Dental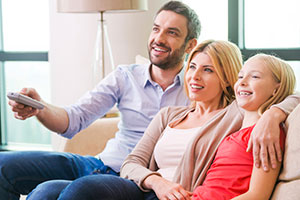 Are you looking for a practice that can help you meet your family's diverse dental needs? At Jeffersonville Family Dental, we offer a wide range of today's most popular and effective general and family dental services. From basic hygiene and prevention to dental sealants, fillings, periodontal therapy, and so much more, we're confident we can help. We're also skilled in many of today's best cosmetic and restorative services, ensuring that we can offer truly comprehensive care to our patients in and around Jeffersonville.
Our general & family services include:
Dental Fillings
Do you have one or more cavities you need help treating? Our Jeffersonville dental office is happy to help. We use tooth-colored fillings to improve the health, strength, and appearance of teeth affected by decay. Treatment is quick and usually only takes one visit, depending on the number of teeth we're treating. When your procedure is complete, you'll leave our office with a beautifully restored tooth and results you can look forward to enjoying for years to come.
Nightguards for Bruxism
Patients who struggle with unconscious teeth grinding have a condition known as bruxism. Commonly caused by stress, bruxism can have a serious impact on oral and overall wellbeing if left untreated. What's more, bruxism affects patients the most while asleep. With a special appliance known as a nightguard, our Jeffersonville dental team can help you control grinding and prevent serious damage to teeth. Your appliance will be custom-made just for you, ensuring that you sleep better at night and enjoy better health going forward.
Athletic Mouthguards
If you or someone else in your family plays sports, an athletic mouthguard is an essential piece of equipment. A custom-made mouthguard will protect your teeth along with your lips, tongue, face, and jaw. Studies have even shown that they can reduce the severity of concussions. All of these benefits make a mouthguard an essential piece of equipment for any athlete, regardless of the sport. If you don't have one already, talk to our Jeffersonville practice.
Emergency Dentistry
Are you experiencing a dental emergency? If so, please don't hesitate to contact our Jeffersonville dental office immediately. We always try to offer same-day care to our patients. When you call us, we'll talk to you about the nature of your emergency and we can offer you tips to help you manage your situation until you're able to reach us.
Conscious Sedation
We understand that some patients feel anxious about going to the dentist. We don't want that to stop anyone from seeking essential care, though. That's why Jeffersonville Family Dental offers conscious sedation. With conscious sedation, we can help you eliminate your anxious feelings to get the important help you need without fear. Have you been putting off an important procedure because of anxiety? Let our team talk to you about the benefits of this effective service.
We also offer:
Cosmetic Dentistry
In-Office and Take-Home Teeth Whitening
Toothpaste and Mouthwash
Would you like to schedule an appointment with Dr. James E.T. Smith? Call our office today. We're proud to offer comprehensive general, cosmetic, and restorative care to Jeffersonville, Clarksville, Sellersburg, Charlestown, New Albany, Floyds Knobs, and all surrounding communities.